Este es un post medio extraño. Sólo es para hacer una recomendación. Si tienen tiempo (y ganas de hacer downloads porque me parece que no las dan en ningún canal de aire o cable) les recomiendo mucho, muchísimo, dos series (que a su vez, vinieron recomandadas por Ilfratan, el hombre más canchero del mundo): Curb your enthusiasm y The Trip.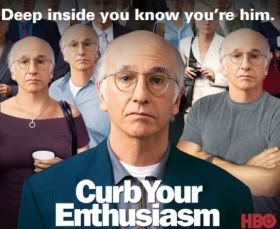 No me voy a poner a explicarles de qué va cada una (o sí. Curb es sobre un tipo que hace todo lo que todos haríamos si no estuvieramos trabados por las normas sociales y The trip es más sutil, son dos amigos, de viaje que charlan).
Más allá de qué tratan las series en sí, encuentro que ambas me gustan porque tienen algo en común. La ausencia de guión, o al menos la ausencia de guión convencional, donde cada palabra está marcada y definida, por una elección de un guión "genérico" donde los actores se ponen de acuerdo en cómo empezar y como terminar, pero el camino "se hace al andar".
Por un lado, el talento de Larry David (el creador de Seinfeld junto a… bueno, junto a Jerry Seinfeld), por el otro, Steve Coogan y Rob Brydon.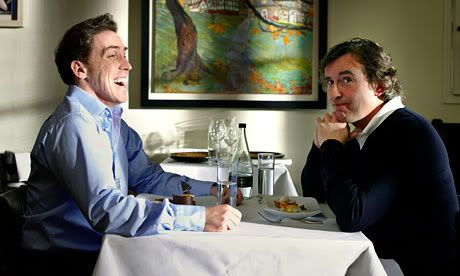 Por un lado, Curb your enthusiasm, por el otro, The Trip.
Humor inglés, humor americano