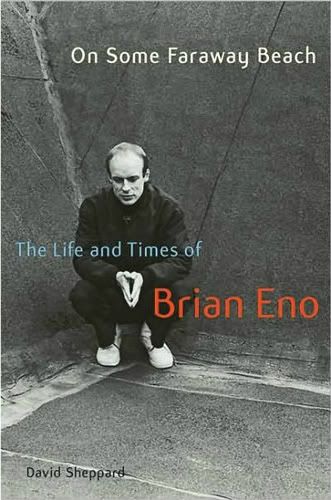 Las pocas almas lectoras de este blog saben que soy un "Enófilo" perdido. Realmente me resulta fascinante la habilidad que tiene esta persona para conectar temas disímiles, asociar, como diría Filmus, es "de los que piensan". Y fue por eso que me compré (y no en versión Kindle, sino en versión papel tapa dura), On Some Faraway Beach: The Life and Times of Brian Eno, de David Sheppard.
El libro en sí es interesante, pero supongo que si supiera de música lo que sabe el intitulado "hombre más canchero del mundo" (a.k.a. @ilfratan) lo hubiera disfrutado mucho más. Yo quería una ventana al cerebro de Eno, entender cómo piensa, qué piensa y qué cosas lo llevaron a las ideas que a lo largo de su carrera ejecutó. De alguna forma, tangencial, esa información está presente. Pero más que nada, On Some Faraway Beach es una recopilación minuciosa y detallada de cada uno de sus discos, con quién los grabó, con quiénes grabaron antes aquellos que participaron, en qué estudios, quiénes eran los dueños del estudio, como se llamaban las mascotas de los dueños del estudio y que clase de salsa prefieren en sus raivioles. En defenitiva, mucha, muchísima más información de la que un negado como yo pudiera necesitar.
Hasta ahora, EL libro de Eno sigue siendo A year, with swollen appendices, su propio diario. Pero mientras no se dedique a escribir uno nuevo, deberemos conformarnos con sucedáneos. En resumen: para el músico "name dropper", On Some Faraway Beach va a ser una mina de oro, para aquellos amantes de Eno en su aspecto tecnofilosófico, digamos que es un viaje por un arroyo, donde aparece una pepita de vez en cuando.